"Where's Mooy Kee?" ― Lok
Lok is a door lock, and you need Kee to get past it.
Lok is a bright yellow wood lock with a metal bar on top of it.
Principal's Description
Edit
She is cute enough to make you stand there and not make you pass!
If you use Kee on her she'll be fwiends with it and hug it!
She is the most annoying because she's like The Bully but only blocks any door and if you see her you will have to jump to unfreeze.
Once you see her if you have Kee you can press O to unlock her and sadly her smile will turn into a frown and she will be unlocked.
I found this picture on google I didn't steal it.
It was made in scratch.
SHE WAS IN A MOD!!!!
In the mod, shes just a item now.
The timestamp in the mod video is at 1:09
Video Appearances
Edit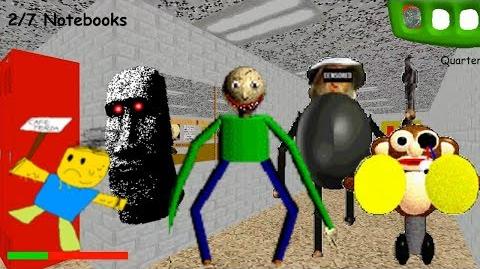 Characters (By Introduction)
Original
Fannmade
Community content is available under
CC-BY-SA
unless otherwise noted.